Join DISB this month for events that will help you buy or maintain your home. For more information, visit: disb.dc.gov/hom.
Image: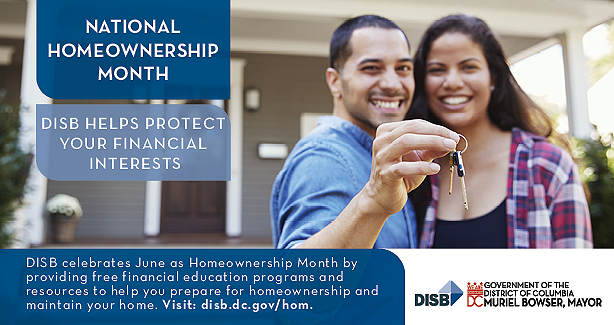 Featured Content Items:
In celebration of National Homeownership Month, take advantage of free programs and resources available through the District of Columbia Department of Insurance, Securities and Banking (DISB) that will help you prepare for homeownership and maintain your home.
DISB will share home-related financial education tips and information, podcasts and events via social media. Subscribe here to get updates from DISB. Follow DISB on Twitter: @DCDISB and LinkedIn: here, like DISB on Facebook and watch consumer education videos at youtube.com/user/DCDISB.
Programs and Resources
Looking to buy a home? Create a budget with Financially Fit DC at welcome.financiallyfitdc.com.
Having difficulty paying your mortgage? Facing foreclosure? Call our foreclosure prevention hotline at (202) 265-2255.
Has COVID-19 hurt your finances? Get in touch with a Financial Navigator who will help you access free resources. Call (202) 231-7908, email

[email protected]

or complete a form at finnav.org/interest-dc.
Have questions about your homeowners insurance policy? Tune into DISB's podcast on your homeowners insurance policy declaration page at disb.dc.gov/service/podcasts.
June 21-25 is DC Flood Awareness Week!
Learn more about events and resources that will help YOU be prepared! Visit ready.dc.gov/floodweek.

Flood and Water Damage: Prevention, Protection and Programs on June 24
What is the difference between flood and water damage? Do you need flood insurance? Join DISB's virtual forum on June 24 at 4 pm to learn how to protect your property and what to do if damage occurs. Visit bit.ly/3hqeloJ.

World Elder Abuse Awareness Day Forum on June 29
How to prevent elder financial abuse? Join DISB and the Elder Abuse Prevention Committee for the World Elder Abuse Awareness Day Forum on June 29 at 1 pm to better understand financial fraud and exploitation and where to report incidences of elder abuse. Join the forum via Zoom at iona-org.zoom.us/j/7282929312 (Meeting ID: 728 292 9312). Participants can also join the forum by phone at (301) 715-8592.

Student Debt Management Webinar for Homebuyers on June 29
Worried about buying a home while having student debt? Join DISB and Housing Counseling Services on June 29 at 4 pm for a webinar to learn practical steps to manage debt and improve chances of qualifying for a mortgage to purchase your first home even with student loan debt.
Podcast
Consumer Guides and Alerts