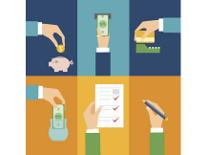 DISB will focus on providing District residents with tools to improve their financial fitness throughout month of April.

In recognition of April 2016, National Financial Capability Month, the District of Columbia Department of Insurance, Securities and Banking is offering free financial health assessments, other personal finance resources and in-person financial education to improve the financial fitness of the city's residents. See below for access to those resources and more.
Also, like us on
Facebook
or follow us on Twitter
@DCDISB
and
@BankonDC
to receive daily updates and tips throughout the month.
---

Free Personal Financial Health Assessment Here!
DISB and its Bank on DC program are offering a free personal financial health assessment to any District resident or District Government employee through LifeCents, a comprehensive personal financial wellness program. LifeCents is a web-based program that helps evaluate, understand and improve your financial health and well-being. It also connects participants to specific resources tailored to their financial needs and goals. For more information or to start transforming your mindset about personal finance,
click here
.
---
Free Tax Services
The DC Earned Income Tax Credit (DCEITC) campaign helps low-to-moderate income tax payers keep more of what they earn. When the earned income tax credit exceeds the amount of taxes owed, a refund is provided to those who claim and qualify for the benefit. The credit basically reduces the amount of tax you owe which may result in a refund. District of Columbia residents can claim the tax credit on both their federal and state income taxes. The campaign is managed by the Capital Area Asset Builders. For more information on how you can get your taxes done for free or to find a tax assistance center near you, choose from one of the links below.
---
Money Smart for Older Adults - Senior Financial Fraud and Exploitation Presentations
DISB will host six "Money Smart for Older Adults Senior Financial Fraud and Exploitation" presentations in collaboration with the DC Elder Abuse Prevention Committee to help seniors avoid being victims of financial fraud. The program will focus on descriptions of financial scams that target the elderly and methods to help the elderly self-protect themselves from scammers. The program will also provide portions of training from "Money Smart for Seniors," a financial education program developed by the Consumer Financial Protection Bureau and Federal Deposit Insurance Corporation. Want DISB to host this presentation for seniors at your community location? Your can submit the request
here
.
---
Financial Education for High School Students
Bank on DC in partnership with Greater Washington Jump$tart is hosting two Financial Literacy Reality Fairs at high schools in the District. The reality fair provides a hands-on experience in which students identify their career choice, income and family composition then complete a budget worksheet. Financial decisions have to be made about food, clothing, shelter, transportation, personal care and entertainment while living within a monthly budget. Students visit various booths that cover different elements of the budget, determine spending levels and then sit down with a financial counselor. Throughout the event, real life temptations and roadblocks challenge students to balance wants versus needs as they learn how to control their financial fate. Are you interested in hosting the Financial Literacy Reality Fair at your program for high school students? Submit the request
here
.
---

Dash for the Stash – Test Your Investor Knowledge for a Chance at $1,000 Towards Retirement
Play the "DASH for the STASH" contest at participating DC Public Libraries for a chance to win a $1,000 contribution to open or add to your retirement account! DASH for the STASH tests participants' knowledge on investment and retirement topics such as building a nest egg, fees and avoiding financial scams.
To play: residents go to participating locations to view the contest posters. Scan the unique QR codes to access the quiz questions and answer the questions using your smartphone or tablet. You can also submit responses online using your computer or via public computers at DC Public Libraries. Enter your responses through May 15, 2016, 11:59 p.m. PDT for your chance to win! The contest is sponsored by the District of Columbia Department of Insurance, Securities and Banking and the Investor Protection Institute. For program rules and a list of participating locations,
click here
.
---
National Retirement Planning Week (NRPW)
DISB joins more than 20 other states to participate in National Retirement Planning Week, 11-15, to share resources on planning for retirement. During that week, we will share resources to help District residents and employees plan and save for retirement. NRPW is sponsored by the National Retirement Planning Coalition (NRPC), a group of prominent education, consumer advocacy and financial services organizations led by the Insured Retirement Institute (IRI).
---
District of Columbia Government Employees Saving for Retirement
Did you know that if you are a District Government employee you can save for retirement by making tax-deferred contributions directly from your paycheck? You can contribute as little as $20 a paycheck. See the details about the District's 457b Deferred Compensation Plan from ICMA-RC at
this link
.
---
More Savings Resources
Savings Calculators
Small Change, Big Savings Calculator
This
calculator
provided by ICMA-RC shows how giving up a few everyday items can add up over time and increase your savings.
myRA
myRA is a retirement savings account provided by the U.S. Department of the Treasury. The account has no cost or fees, no complicated investments and is guaranteed. myRA was developed to provide individuals who don't have access to a retirement savings plan at work and easy way to start saving. There are calculators that show how much you can save, how much to save per month to reach your savings goal and how my weekly savings add up. To sign up
click here
.
Social Security Retirement Estimator
The
retirement estimator
is a calculator provided by the US Social Security Administration to get an estimate of your retirement benefit based on your actual Social Security earnings record.
Make a Savings Plan
Did you know that if you create a savings plan you are twice as likely to reach your goal? To start your savings plan, join the Pledge to Save campaign by America Saves. To take the pledge,
click here
.