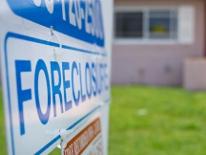 DISB provides access to a number of resources to help District residents avoid foreclosure including foreclosure mediation, housing counseling and legal aid for homeowners. Also, you can call the District's Foreclosure Prevention Hotline – (202) 265-CALL (2255) and 1(855) 449-CALL (2255) or DISB at (202) 727-8000 for assistance on accessing any of these resources. Don't wait until it's too late – make the call!
Foreclosure Mediation
The Foreclosure Mediation Program lets homeowners and lenders meet face-to-face to discuss alternatives to foreclosure. The program is open to District owners of residential properties located in the District – including owners of condominiums – who have received a notice of default from their lender (not condo association), the notice lenders must send warning them that the property could go into foreclosure. Since the program's inception in May 2011, 70 percent of mediations prevented foreclosures with lenders and homeowners agreeing to loan modifications, repayment plans, reinstatements, short sales and other alternatives. For more information on the Foreclosure Mediation Program, contact the Foreclosure Mediation Administrator at (202) 442-7765 or send an email to [email protected].
Housing Counseling and Other Resources
DC Homeowner Assistance Fund- Program administered by DHCD
The DC Homeowner Assistance Fund Program uses funding from the American Rescue Plan to provide grants to District Homeowners who have been affected by COVID-19 to help keep their home.
The financial assistance program is accessed via a digital portal, that serves as a one-stop shop, providing grants to District homeowners impacted by COVID-19 who are struggling with their mortgage payments and other property or housing expense.
For more information, visit https://haf.dc.gov/
National Mortgage Settlement
In February 2012, federal and state governments reached an historic $25 billion settlement with the country's five largest mortgage-servicers to provide relief to people who lost or are in danger of losing their homes because of the companies' abuses.
The settlement provided the District with $4.43 million for ongoing and new programs to help District residents stay in their homes. Through a DISB-supervised contract Housing Counseling Services, a local HUD –approved non-profit housing counseling agency, the funds are paying for foreclosure prevention counseling, legal assistance for homeowners facing foreclosure; supporting a D.C. specific foreclosure hotline for distressed homeowners; community outreach; and helping District residents get money they are eligible for through the settlement.
Housing Counseling Services launched a city-wide public relations campaign with bus ads and public service announcements to inform the public about the new foreclosure prevention resources including the hotline (202) 265-CALL (2255) or 1(855) 449-CALL (2255).
For more information and to sign up for webinars, visit housingetc.org.
Other Foreclosure Prevention Resources
The D.C. Department of Housing and Community Development provides counseling services for District homeowners who are behind in their mortgage payments, or who are subject to foreclosure. For more information, visit dhcd.dc.gov/service/foreclosure-prevention-resources.
Foreclosure Rescue Scams – Beware
DISB wants you to know that foreclosure rescue scams cost homeowners a substantial amount of money besides their home. If an individual or a company mentions any of the actions below, then you should check with your lender for approval of the transaction first or report it to DISB.
Asks for money up front for the service;
Asks you to send your payment to them instead of the lender;
Guarantees that they can stop the foreclosure;
Suggests that you sign the deed over to them; or
Claims to be with the government.
For more information on foreclosure rescue scams, visit HUD's Stop Loan Modification Scams, Loan Modification Scam, Prevent Loan Scams and Consumer Financial Protection Bureau (CFPB).
File A Complaint
If you believe you have been a victim of foreclosure rescue scams, other financial frauds or regulated financial service providers, report it to: