The free Financial Navigators Program helps District residents who are facing critical financial struggles during the coronavirus (COVID-19) public health emergency. The program connects District residents with trained Navigators by phone. Navigators help individuals and families access programs and services to manage income disruptions and other financial concerns.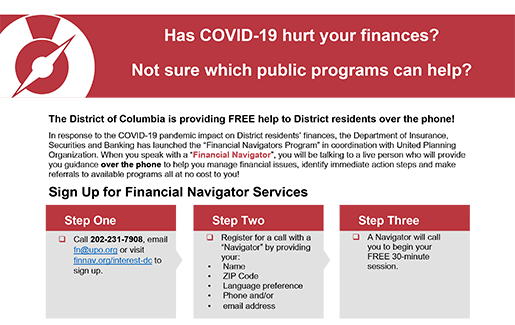 Residents can access virtual services by calling (202) 231-7908, emailing [email protected] or by completing the web form at finnav.org/interest-dc. A staff member with the Financial Navigators Program will send a short service agreement and follow up with a phone call to begin the personal session.
The Financial Navigators Program is offered through the DISB Office of Financial Empowerment and Education. The program was made possible through an $80,000 grant from the national nonprofit Cities for Financial Empowerment Fund, which is also providing significant technical assistance and training resources.
The program provides guidance to help District residents triage personal financial issues and identify immediate action steps to manage expenses and maximize income. The program also refers residents to free DISB programs related to financial hardship or planning, such as Bank on DC, Financially Fit DC and Foreclosure Mediation, and programs available through other District agencies and non-profit partners. Financial Navigators are not long-term counselors, however, nor can they provide direct financial assistance.
DISB has partnered with the United Planning Organization to administer this program. The Financial Navigators initiative is supported by Bloomberg Philanthropies, the Citi Foundation, JPMorgan Chase & Co. and the Wells Fargo Foundation.