America Saves Week 2021 is February 22 to 26
Encouraging Americans to Save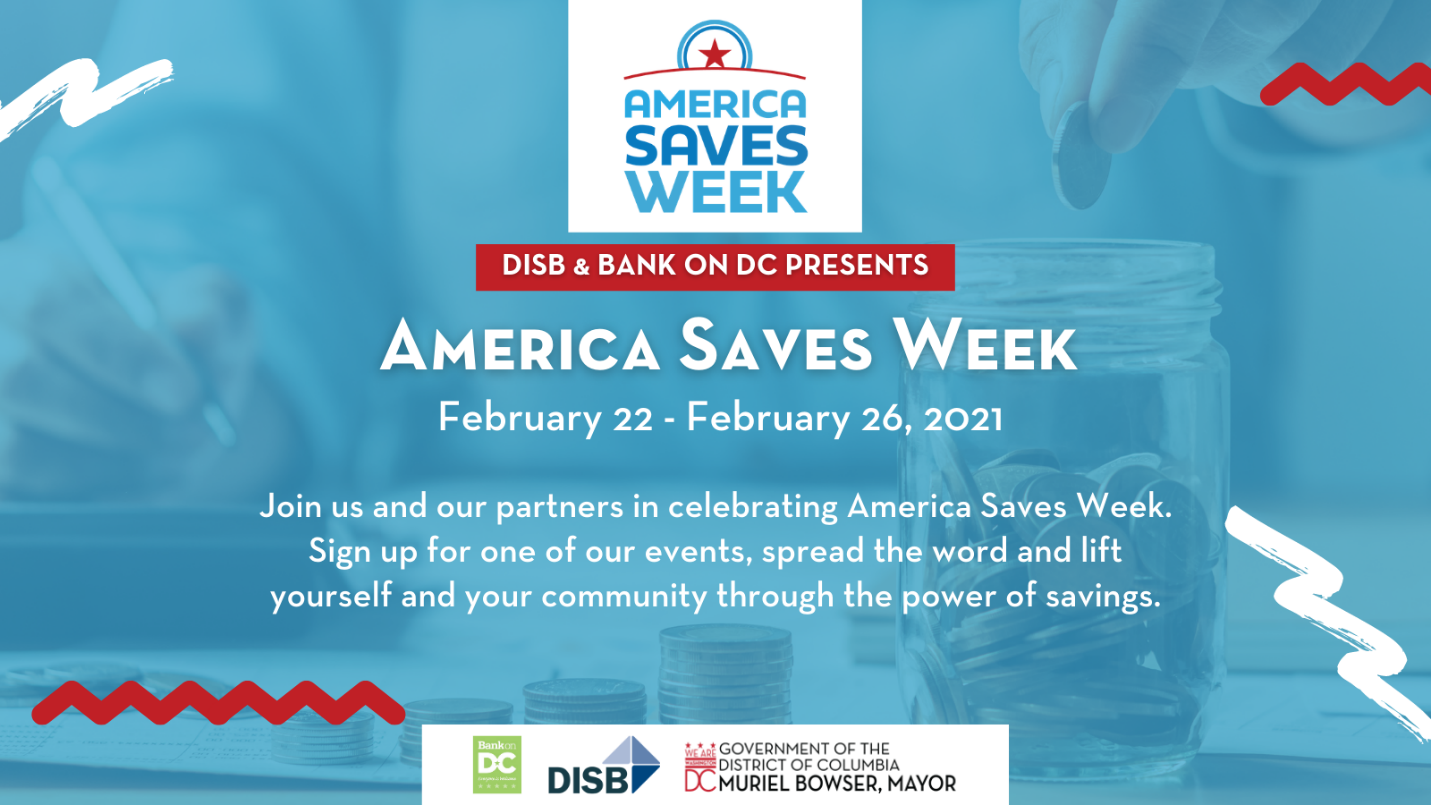 America Saves Week is an annual celebration and call to action for Americans to commit to saving successfully. Since the onset of the coronavirus (COVID-19) public health emergency, millions of Americans have experienced a loss of income. America Saves Week is the perfect time to get a clear view of your finances, set your financial goals and make a plan to achieve them.
Through the support of over 1700 organizations, the initiative encourages local communities, families and individuals to examine their finances and rethink their saving behaviors. It all happens with the America Saves pledge that allows savers to set goals and make plans to achieve better financial stability.
America Saves Week is February 22 - 26, 2021. During the week, the Office of Financial Empowerment and Education (OFEE) will help residents of the District with a series of free events focusing on the following themes. Follow us on Twitter (@DCDISB and @BankonDC) and Facebook (@DISBDC) :
Monday, February 22 | Save Automatically
Hashtags of the Day: #SaveAutomatically, #ASW2021, #SplitToSave
Tuesday, February 23 | Save for the Unexpected
Hashtags of the Day: #Save4TheUnexpected, #EmergencySavings #ASW2021
Wednesday, February 24 | Save to Retire
Hashtags of the Day: #Save2Retire, #ASW2021
Thursday, February 25 | Save by Reducing Debt
Hashtags of the Day: #ReduceDebt, #PayingDownDebtIsSaving, #ASW2021
Friday, February 26 | Save as a Family
Hashtags of the day: #SaveAsAFamily, #ASW2021
Join us for these events
American Saves Events - Feb 22-26, 2021

DATE

EVENT

Monday, February 22

Let's Get Social: #SaveAutomatically & #SplitToSave
@BankonDC Twitter Chat to share tips about saving and preparing for the future

Tuesday, February 23

How America Banks
2 - 3 pm
Partnership: FDIC

#ThinkLikeASaver: Tax Time Town Hall
2 pm

Wednesday, February 24

Saving for Retirement
The District of Columbia and ICMA-RC are committed to helping DC employees and their families save successfully.

Let's Get Social: Experian on Twitter @BankonDC #CreditChat

Thursday, February 25

Ahorrando en Familia - UPO Series Part 2 - Save as a Family Series in Spanish.
This event creates an opportunity for the parents or guardians to start the conversation on financial education at an early age with their children.
1 - 1:35 pm
Partnership: UPO

Mayor's Office on African Affairs America Saves Read Along - Family Virtual Story Time: How to Save
6 -7 pm
Partnership: Mayor's Office on African Affairs, PNC, and RENAISSANCE CENTER for Culture and Education.
Tentative: MOWPI/ DISB Women and Money Series- Details to follow

#ThinkLikeASaver: Tackling Debt Town Hall
2 pm

Friday,
February 26

Virtual Story Time DC Public Library
10:30 am
Join the DC Library System on Facebook Live for Virtual Story Time at facebook.com/dclibrary.

Experian #CreditChat Live
Additional Resources: