America Saves Week 2023
A Financially Confident You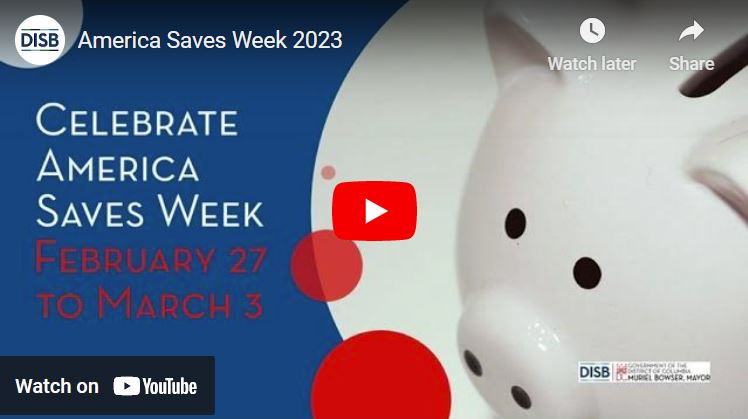 America Saves Week is an annual celebration and call to action for Americans to commit to saving successfully. Financial confidence is the intersection of building a savings habit, knowing what resources you have available to support your financial stability, and taking advantage of those resources as needed.
Through the support of more than 1,700 organizations, the America Saves initiative encourages local communities, families and individuals to examine their finances and rethink their saving behaviors. It all begins with the America Saves Pledge, encouraging savers to set a goal, and plan to achieve better financial stability.
Celebrate America Saves Week February 27 to March 3. During this week, DISB shares with residents and employees of the District events, programs and resources to help them save, and promote financial resiliency.
Date
Daily Theme
Get social with us- Hashtags of the Day & Video of the day
Events & Activities for Saving
All Week
Start Your Savings Journey

#ASW2023, #America Saves Week

Video: Celebrate America Saves Week

Monday, February 27
Saving Automatically [Pay Yourself First]

#SaveAutomatically, #ASW2023, #SplitToSave, #ThinkLikeASaver

Watch Saving In The Way That Works For You featuring Michelle Hammonds covering different saving vehicles, saving systems, and how to keep up with spending and saving during America Saves Week Virtual Town Hall on February 27 at 2 pm

Register at bit.ly/real-ways-2-save

Tuesday, February 28
Save for the Unexpected

#Save4TheUnexpected, #EmergencySavings #ASW2023

Take the America Saves pledge

What are you Saving for? Activity (PDF)

Save Automatically Info Sheet (PDF)
Wednesday, March 1
Saving for Major Milestones

#ASW2023

Student Debt Management Webinar for Homebuyers
On March 1 at 4 pm, join DISB's Student Loan Ombudsman and Housing Counseling Services for a webinar designed to help borrowers make informed decisions about student loan repayment.

Register here

Thursday,
March 2

Paying Down Debt Is Saving

#ReduceDebt, #PayingDownDebtIsSaving, #ASW2023

Women & Wealth Gaps: Strategies to Change Legacies
Join DISB and the Mayor's Office on Women's Policy and Initiatives on March 2 at 6 pm, at Ìpàdé, 1700 Connecticut Avenue NW to celebrate Women's History Month and America Saves Week by empowering women to overcome and challenge wealth gaps. Discussions will highlight barriers and uplift tools women can access to fill the gap.

Register at bit.ly/WealthGaps
Friday,
March 3
Saving at Any Age

#SaveAsAFamily, #ASW2023

Save as a Family Goal Sheet (PDF)

Take the America Saves pledge or re-pledging