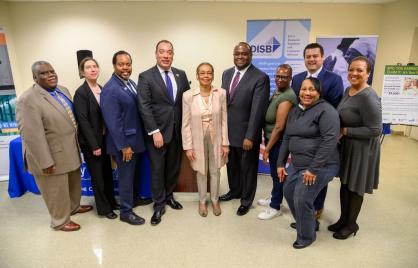 Washington, DC—Workers may get a larger tax refund this year because of the Earned Income Tax Credit (EITC). But to get it, you must file a tax return and claim it.

Today, January 25, 2019, marks the 13th anniversary of EITC Awareness Day, a nationwide effort to increase awareness about EITC and free tax preparation sites. On this same day, the District of Columbia Department of Insurance, Securities and Banking (DISB), in partnership with United Way of the National Capital Area (United Way NCA), hosted a DC EITC Awareness Day event from 9:30 to 11:00 a.m. at United Planning Organization's Petey Greene Center. The center is located at 2907 Martin Luther King, Jr. Avenue, SE in Washington, DC.

DISB and United Way NCA hosted the event to promote its volunteer tax work and to highlight great community partners like Capital Area Asset Builders, Community Tax Aid and United Planning Organization. Speakers included Congresswoman Eleanor Holmes-Norton (D-DC), DISB Commissioner Stephen C. Taylor, United Way NCA Chief Strategy and Impact Officer Timothy Johnson, United Planning Organization Chief Executive Officer Dana Jones, Citi Community Development Vice President Reginald Exum and an EITC recipient.

"Getting EITC and the maximum refund you are due is part of our commitment to helping District residents improve their financial well-being. Our goal is to help you get it and get it right. This is money you can save or use to pay off bills, buy that car to get to work or make a down payment on a home. Let us help make your life a little easier," said DISB Commissioner Stephen C. Taylor.

In 2018, 25 million workers received more than $63 billion in EITC refunds nationwide. In the District of Columbia, 50,000 workers received $117 million in EITC refunds.

Why is it important to have an EITC Awareness Day each year? One-third of the EITC population changes each year. The IRS estimates that four out of five workers claim the EITC they earned. This leaves billions of dollars on the table each year. We want to get the word out to those who are eligible to file a tax return even if they do not owe any tax to claim the EITC. It is money workers can use for groceries, rent, utilities and other bills.

"The Earned Income Tax Credit (EITC) and the Child Tax Credit (CTC) can make a real difference for workers who are struggling to make ends meet," said Timothy Johnson, Chief Strategy and Impact Officer, United Way National Capital Area. "We are urging the community to take advantage of these credits now and access our free tax prep services; especially those affected by the government shutdown who need every dollar back in their pockets. We are grateful to Citi Community Development for their generous support of this work."

If you worked last year and had income of less than $54,884, check out your eligibility for EITC. To be eligible, you must have earned income or certain disability income. This means you must have income from working for someone or working for yourself.

Tax preparers—trained by the Internal Revenue Service—ask you the needed questions to find out if you qualify for the EITC and other refundable tax credits. Volunteers at VITA, Volunteer Income Tax Assistance sites, also prepare and e-file (electronically file) your tax return at no cost to you.

Visit a free tax preparation site at: https://www.communitytaxaiddc.org/free-tax-assistance/locations-2/

https://unitedwaynca.org/VITA-Site (VITA site locations)
https://unitedwaynca.org/VITA-EITC (financial stability services)

To work with a volunteer who will help get you the right amount of credit you deserve, make sure to provide the following:
A valid driver's license or other photo id card
Social security cards, a social security number verification letter for all persons listed on the return
Birth dates for all persons listed on return
All income statements: Forms W-2 and 1099, Social Security, unemployment, and other statements, such as pensions, stocks, interest and any documents showing taxes withheld
All records of expenses, such as tuition, mortgage interest, or real estate taxes
Copies of last year's state and federal tax returns, if you have them
Bank routing numbers and account numbers to direct deposit any refund
Dependent child care information: name and address of who you paid and either the caretaker's SSN or other tax identification number
If you purchased coverage through the Health Insurance Marketplace, Form 1095-A, Health Insurance Marketplace Statement
Both spouses to sign forms to e-file a joint tax return

About DISB

The mission of the District of Columbia Department of Insurance, Securities and Banking is two-fold: 1) to protect consumers by providing equitable, thorough, efficient and prompt regulatory supervision of the financial services companies, firms and individuals operating in the District of Columbia; and 2) develop and improve market conditions to attract and retain financial services firms to the District of Columbia. Visit DISB online at disb.dc.gov.

About United Way of the National Capital Area

United Way of the National Capital Area fights for the health, education and financial stability of every person in the National Capital community. United Way NCA has been improving lives by creating measurable impact in the District of Columbia, Northern Virginia, and Montgomery and Prince George's Counties for more than 40 years. For more information about United Way of the National Capital Area, visit UnitedWayNCA.org.