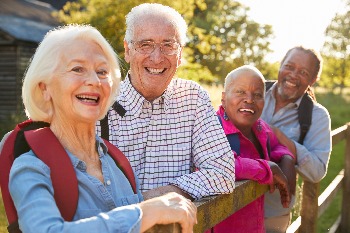 May is designated as Older Americans Month, which was originally established in 1963 by then President Kennedy and the National Council of Senior Citizens as Senior Citizens Month. At the time of designation only 17 million American had reached their 65th birthday, one-third of older Americans lived in poverty and few programs were available to meet the needs of elders. This year's theme is Connect, Create, Contribute.
Connect with friends, family and services that support participation.
Create by engaging in activities that promote learning, health and personal enrichment.
Contribute time, talent and life experience to benefit others.
The Department will offer free educational programs, resources and services throughout the month to promote personal financial well-being and financial fraud prevention among District senior citizens.
Free Elder Housing Resource Forum
Department of Insurance, Securities and Banking in collaboration with the Clergy for Community Wealth Preservation and the Federal Deposit Insurance Corporation will host a free elder housing resource forum on May 15 from 9 am to 1 pm. The forum will provide faith community leaders and seniors with information that will help seniors age safely and affordably in their homes. Forum topics include legal assistance, housing counseling, property tax, foreclosure mediation and assistance, residential rehabilitation, tenant advocacy and financial education. Event is free; however, registration is required. Click here to register.
May 15
9 am to 1 pm
Elder Housing Resource Forum
Washington Senior Wellness Center
3001 Alabama Ave. SE
Washington, DC 20020
Financial Fraud and Exploitation Presentations
Worried about your loved one being victimized by financial scammers? Check out the Department's financial fraud prevention presentations that help residents and service providers spot scams and report them to DISB for investigation. Want DISB to host this presentation at your community location? Submit the request here. To see a list of upcoming events, view our online calendar.
Money Smart for Older Adults Presentation:
May 19
1 pm to 2 pm
Money Smart for Older Adults
Albright Memorial United Methodist Church
411 Rittenhouse St. NW
Washington, DC 20011
DISB In Your Neighborhood:
May 7
11 am to 3 pm
Community Health, Wellness and Resource Fair
St. Paul's Rock Creek Church
201 Allison St. NW
Washington, DC 20011
May 16
10 am to 2 pm
Community Preservation and Development Corporation
6th Annual Health Resource Fair
Bald Eagle Recreation Center
185 Joliet St. SE
Washington, DC 20032
May 17
10 am to 1:30 pm
Terrific Inc. 2019 Health and Resource Fair
Nineteenth Street Baptist Church
4606 16th St. NW
Washington, DC 20011
Related Content:
Commissioner Taylor's Article—Honoring and Protecting Your Seniors, The Washington Informer - April 30, 2019
Press Release: DISB Hosts Elder Housing Forum for Faith Community – May 15, 2019