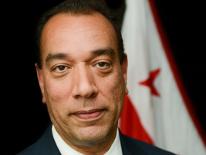 Stephen C. Taylor is the fifth Commissioner of the District of Columbia Department of Insurance, Securities and Banking. Mayor Muriel Bowser nominated Taylor as Acting Commissioner on June 19, 2015 and the Council of the District of Columbia unanimously confirmed the nomination on November 3, 2015.
In his role, Commissioner Taylor serves as the chief regulator of the District of Columbia's financial-services industries, including insurance companies and their representatives; captive insurance companies; state-chartered banks; mortgage lenders and brokers and other non-depository financial institutions; and securities broker-dealers and investment advisors. The Commissioner also is responsible for managing financial education programs that include Financially Fit DC and Bank on DC. The Commissioner also administers the District's capital access programs pursuant to the federal State Small Business Credit Initiative.
Commissioner Taylor has over 20 years of experience in financial services regulation and finance and fiscal affairs. He served in various leadership roles including General Counsel and Acting Deputy Commissioner with the Department, and General Counsel with the former Department of Banking and Financial Institutions. In those roles, Commissioner Taylor directed the Department's legislative and regulatory drafting programs, assisted in implementing the Dodd-Frank Wall Street Reform and Consumer Protection Act and the Patient Protection and Affordable Care Act, and revised the District's Banking Code. Previously, he held positions in the Office of the Chief Financial Officer and the Council of the District of Columbia, where he worked on finance, economic development, tax, budget and land use issues. Before his appointment as Commissioner, Taylor served as Assistant Attorney General with the District of Columbia Office of the Attorney General, where he provided legal counsel to the District Department of Health Care Finance.
Commissioner Taylor serves as the Vice Chair of the Northeast Zone of the National Association of Insurance Commissioners (NAIC). Also, he is a member of the NAIC's Executive Committee and Government Relations Leadership Council, as well as the International Insurance Relations Committees. The Commissioner is Chair of the Consumer Liaison Committee and the Consumer Participation Board of Trustees and serves as Vice Chair of the Life Insurance and Annuities; Receivership and Insolvency Task Force, and the Risk Retention Group Task Force.

As part of his responsibilities, Commissioner Taylor is a Member of the Executive Board of District of Columbia Health Benefit Exchange, and a Member of the Board of Directors of the Washington DC Economic Partnership.

Commissioner Taylor holds a Juris Doctor and Master of Laws from Georgetown University Law Center, and a Bachelor of Arts from Fordham University.