Last Date:
Details: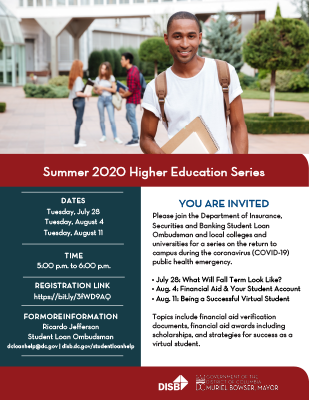 Please join the Department of Insurance, Securities and Banking Student Loan Ombudsman and local colleges and universities for a three-part series on attending college during the coronavirus (COVID-19) public health emergency.
The Summer 2020 Higher Education Series provides recent District high school graduates and their families with resources that will help them navigate college entry successfully.
The first session is geared towards students and their families enrolling in college for the first-time. Hear from regional universities on how they are preparing for the fall semester with the COVID-19 pandemic in mind.
Panelists:
Benjamin Beltran, Coordinator for the Common Ground Multicultural Dialogue Program Department of Resident Life
University of Maryland College Park
Chevaun Whitman, Director for Bear Essentials One-Stop Student Services Center
Morgan State University
Omar Harrod, Lead Recruitment Specialist, Office of Undergraduate Recruitment & Admissions
University of the District of Columbia
Tammy I. McCants, Associate Director Office of Admission
Howard University
To register, follow this link, bit.ly/3fWD9AQ.