Last Date:
Details: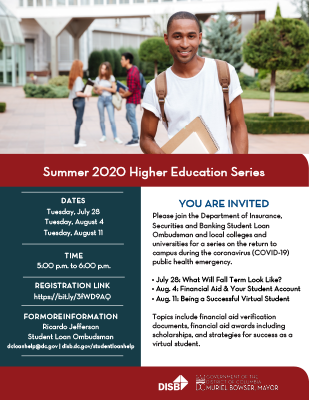 Please join the Department of Insurance, Securities and Banking Student Loan Ombudsman and local colleges and universities for the second installment of the Summer 2020 Higher Education Series.
This session will focus on financial aid verification documents, submitting verifications of enrollment to certify outside scholarships, Parent Plus loans, and understanding your financial aid award and out of pocket costs.
Panelists:
Chevaun Whitman, Director for Bear Essentials One-Stop
Student Services Center
Morgan State University
Kenneth McGhee, Director of DC Tuition Assistance Grant (DCTAG)
Office of the State Superintendent of Education
To register, follow this link, bit.ly/3fWD9AQ.