Last Date:
Details: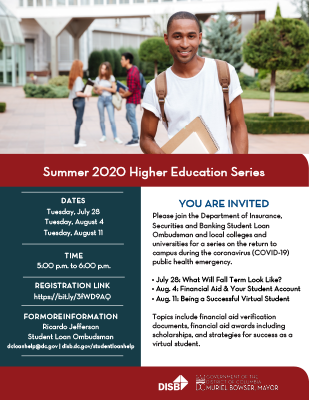 Please join the Department of Insurance, Securities and Banking Student Loan Ombudsman and local colleges and universities for the third installment of the Summer 2020 Higher Education Series.
Worried about going to school virtually? Will there be support services? What are the technology requirements and skills level needed for virtual learning? This session will focus on best practices, strategies and tips for success as students adapt to learning in virtual environments. Hear from regional universities on the advantages of attending class online, the effectiveness and the credibility.
Panelists:
Benjamin Beltran, Coordinator for the Common Ground Multicultural Dialogue
Program Department of Resident Life
University of Maryland College Park
Sarah Prince, Associate Executive Director for Enrollment Development
Trinity Washington University
Omar Harrod, Lead Recruitment Specialist
Office of Undergraduate Recruitment & Admissions
University of the District of Columbia
Tammy I. McCants, Associate Director Office of Admission
Howard University
To register, follow this link, bit.ly/3fWD9AQ.