Summer Camps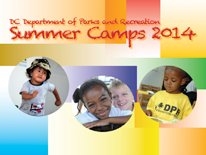 Thank you to everyone who made the 2014 Summer Camps season another successful summer at DPR.
2015 Summer Camp information will be available after January 10, 2015.
______

The DC Department of Parks and Recreation (DPR) is excited to announce the 2014 Summer Camps season as we prepare for another great summer of swimming, field trips, creative activities, and new experiences in the District of Columbia. The 2014 Summer Camp season will offer four sessions from June 23 through August 15, 2014.
2014 DPR Announces Four Additional Camps
On Friday, April 4, 2014, DPR announced additional camps would be added to the 2014 Summer Camps offerings. Registration will open on Monday, April 14 at 12 noon for 2 Achieve, 2 Aqua Day, 1 Goal! Soccer Camp and 1 REC camp. Press Release: DPR Announces Registration for Four Additional 2014 Summer Camps

2014 Session Dates
Session 1: June 23 – July 3, 2014 (Holiday, July 4)
Session 2: July 7 – July 18, 2014
Session 3: July 21 – August 1, 2014
Session 4: August 4 – August 15, 2014
Most camps operate Monday through Friday, from 9 am – 5 pm.
DPR also offers a Before and After Care package for an additional flat rate. Before care is offered from 8 am – 9 am and after care is offered from 5 pm – 6 pm.
2014 Summer Camp Information
2014 Summer Camp Registration
2014 Summer Camp registration is now open. Click on "Sign Up for Summer Camps" to register. Please see below for the rolling registration schedule, please note that camps are listed first by date of registration, then by site location and finally by the camp on the registration page.

Mon., Feb 10
Tues., Feb 11
Wed., Feb 12
* NEW: Fri. Feb 21
- Bald Eagle
- Banneker
- Benning Park
- Brentwood
- Volta Park


- Columbia Heights
- Friendship
- Hillcrest
- Kennedy
- Petworth
- Trinidad

- Lafayette
- Macomb
- Riggs-LaSalle
- Sherwood
- Stead


- Chevy Chase CC
- Douglass
- Kalorama
- Lamond
- N Michigan Park


Fri., Feb 14
Tues., Feb 18
Wed., Feb 19
Thurs., Feb 20
- Chevy Chase RC
- Emery
- Fort Davis
- Jelleff
- Langon Park

- Benning Stoddert
- Fort Stanton
- Guy Mason
- Joseph H. Cole
- Takoma

- Fort Stevens
- Hardy
- Palisades
- Raymond
- Turkey Thicket

- Barry Farm
- Deanwood
- Stoddert
- Watkins


_________

Kids, Camps & Co-op Division
Columbia Heights Community Center
1480 Girard Street, NW, 4th Floor
Washington, DC 20009
Phone: (202) 671-0372
Fax: (202) 671-2796
Email: dpr.camps@dc.gov