William P. White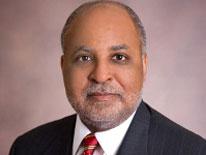 William P. White is the Commissioner and agency head for the District of Columbia Department of Insurance, Securities and Banking (DISB). Mr. White was appointed as the insurance commissioner by Mayor Vincent C. Gray on February 4, 2011. He was confirmed by the Council of the District of Columbia on June 7, 2011, by a unanimous vote. As the agency head, he is the chief regulator of the District of Columbia's financial-services industries, including insurance companies and their representatives, District of Columbia chartered banks, mortgage lenders and brokers and all other non-depository financial institutions, as well as securities broker dealers and investment advisors.

Mr. White is a seasoned insurance and risk-finance professional with over 35 years of broad experience in both industry-leading firms and high-level positions with government regulatory agencies.

Prior to his appointment, Mr. White was an independent consultant and operated his own business, Prism Strategies LLC, which included a regulatory appointment in 2003 to 2004 with DISB's Captive Insurance Division. Mr. White specialized in developing alternative risk transfer (ART) transactions and captive insurance entities for businesses and domicile development including market coordination and regulatory strategies for government agencies.

Mr. White was a senior management officer at American Re Corporation (AMRE) from 1997 to 2003. During his career at AMRE, he was responsible for risk portfolios that provided treaty reinsurance coverage to businesses with substantial risk retentions through self-insurance or captive insurance companies, underwriting large accounts, and managing an underwriting unit that produced business through managing general agents and retail brokers. In addition, he coordinated the implementation of a value-based management process initiated by the parent company, MunichRe that resulted in corporate-wide reorganization.

Mr. White has also worked for Milliman & Robertson, Munich American Reinsurance Company, General Reinsurance Company, Royal Insurance, and Insurance Company of North America all in New York City.
As Commissioner, Mr. White has taken a lead role in ongoing discussions about global regulatory requirements through his position as a member of the Federal Advisory Committee on Insurance (FACI) with the Federal Insurance office (FIO) at the US Treasury Department and as a member of the NAIC International Insurance (G) Committee.

Mr. White earned his bachelor's degree from Dartmouth College, an MBA from New York University, and an Associate in Reinsurance designation from the Insurance Institute of America.