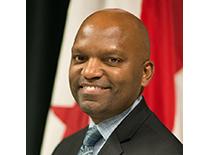 Interim Executive Director, DC Commission on the Arts and Humanities
Derek Younger currently serves as the Interim Executive Director of DC Commission on Arts and Humanities. Younger recently served as the Special Assistant to the Office of Cable Television, where he played a key role in the Office of Motion Picture and Television Development and the Office of Cable Television merge to form the Office of Cable Television, Film, Music and Entertainment. He also served as Special Assistant-Operations and Tactical Implementation to the DC Commission on Arts and Humanities.
Younger made history as the first employee hired by Major League Baseball as the Director of Ticketing Operations after the Montreal Expos announced their move to Washington, DC. As a result of Mr. Younger's efforts, the Nationals successfully hosted a sellout crowd for their home opener on April 14, 2005.
Younger contributed to the successful opening of RFK as the first stadium to host Major League baseball in Washington, DC in 34 years along with the opening of Nationals Park three years later. In 2006 Younger directed the ticket operations for the visit and Eucharist by His Holiness Pope Benedict XVI at Nationals Park – a 55,000 capacity event. Younger's operational experience and expertise as a Director has placed him as Venue Director at the 2000 Olympic Summer Games in Sydney, Australia overseeing the Dome and 4 key pavilions for both the 2000 Olympic Summer games and the proceeding 2000 Paralympic games in Sydney, Australia. He also served as the Venue Director for the 2002 Olympic Winter Games in Salt Lake City.
Mr. Younger has extensive experience in Arts, Theatre and Creative Economy, working as the Assistant Treasurer for the Wang Centre for the Performing Arts/Citi Center for the Performing Arts in Boston. Derek Younger also served on the Board of Directors for the International Ticketing Associations and The Hawthorne Youth and Development Center, and as President of the IATSE Local-B4. Younger is the 2006 recipient for the International Ticketing Association Outstanding Ticketing Professional Award and is a proud alumnus of the Art Institute of Atlanta and Morehouse College.
Younger is a proud Ward 5 resident.